Description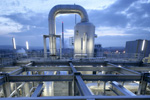 The European Commission adopted on 15 July 2015 a legislative proposal to revise the EU emission trading system (EU ETS), which includes the creation of an Innovation Fund. The Innovation Fund should be endowed with 450m allowances to support large-scale demonstration of activities in carbon capture and storage, renewable energy and low-carbon innovation in energy intensive industry, including carbon capture and use.
12 June 2017: Finance for innovation: Towards the ETS Innovation Fund – Final conference.
The "Finance for innovation: towards the Innovation Fund" expert consultations, initiated in January 2017, have been completed. The European Commission gathered the key recommendations from more than 250 experts from energy intensive industries, renewables, energy storage, and carbon capture and storage sectors.
20 January 2017: High-level conference "Finance for innovation: Towards the ETS Innovation Fund"
The consultation process was kicked-off by a high-level conference in Brussels during which high-level experts presented the state of play for decarbonisation forecasts in the industry, with a focus on the financial needs and latest developments from the financial markets.
Presentations
17 February 2017: Workshop 1 "Ferrous and non-ferrous metals"
23 March 2017: Workshop 2 "Oil refining, Chemicals & bio-based, Paper & pulp"
06 April 2017: Workshop 3 "Cement & lime, Glass & ceramics"
06 April 2017: Workshop 4 "Renewables and energy storage"
Location