<p>The European Commission held a stakeholder meeting on the role of agriculture and forestry in EU climate change policy on 30 August 2012 in Brussels. Some 80-90 stakeholders participated.</p>
land use | reduction of gas emissions | sustainable forest management
Description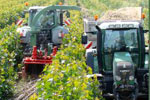 The focus of discussions was on the legislative proposal and communication on greenhouse gas emissions and removals relating to land use, land use change and forestry (LULUCF) presented by the Commission on 12 March 2012. The proposal would establish rules to account for emissions and removals from forests and agricultural soil across the EU, and require Member States to draw up LULUCF action plans, as a first step towards incorporating the agriculture and forestry sectors in the EU's emission reduction efforts.
The meeting also served as a continuation of the discussions held at the first stakeholders' meeting on 28 January 2011, which also covered other topics related to the role of agriculture and forestry in achieving the EU's climate change commitments.
Presentations made at the meeting are shown below.
Read More
Useful documents
Presentations
Photos
Location