carbon dioxide | carbon capture and storage
Description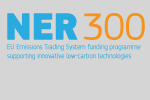 The NER 300 Information Event aims to give attendees an overview of the current status of the implementation of the NER300 programme and the channels through which unspent resources will be reinvested – InnovFin Energy Demo Projects and Connecting Europe Facility (CEF) Debt Instrument. The event will also inform stakeholders on the latest developments regarding the Innovation Fund, which will succeed the NER 300 programme.
Background
NER 300 is one of the world's largest funding programmes for innovative low-carbon energy demonstration projects. Funded through the EU emissions trading system (ETS), it provides €2.1 billion in co-funding to projects demonstrating environmentally safe carbon capture and storage (CCS) and innovative renewable energy technologies on a commercial scale within the EU.
As some of the awarded projects have been cancelled, some NER 300 funds remain undisbursed. The Commission has proposed reinvesting such resources from the first NER 300 call through existing EU financial instruments.
More information
Location
Brussels