<p>This session will be largely taken up with technical work to implement decisions reached at international level over recent years. This work is essential to help ensure that countries deliver on commitments made to date.</p>
climate change policy | international negotiations | international cooperation | climate change

Monday 3 June 2013, 02:00 - Saturday 15 June 2013, 01:59 (CEST)
Practical information
When

Monday 3 June 2013, 02:00 - Saturday 15 June 2013, 01:59 (CEST)

Languages

English
Description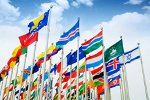 In the continuation of Durban Platform (ADP) talks on the new international climate agreement to be adopted in 2015, the European Union will be looking to take forward discussions on how to ensure all countries make ambitious emission reduction or limitation commitments.
The previous meeting of the ADP, at the beginning of May, saw the emergence of ideas on how emission commitments could be developed in a step-wise fashion through a combination of national processes shaped by internationally agreed guidelines and peer review procedures in order to ensure that global warming stays below 2°C. The EU wants to deepen these discussions on the basis of a paper it has submitted setting out how this step-wise process could work.
A further EU priority, under the ADP's workstream on raising ambition pre-2020, will be to promote a draft decision of the UN Framework Convention on Climate Change calling on countries to press for a phase-down of hydrofluorocarbons (HFCs) under the Montreal Protocol on ozone-depleting substances. The decision would be adopted at the Warsaw climate conference (COP 19) in November.
The EU will also report to the meeting on the implementation of its 'fast start' finance commitment, under which it provided €7.34 billion to developing countries over 2010-2012, slightly more than the €7.2 billion originally pledged.
Read More
Location